About Us
Since the mid '90's, A SCOTTISH HEART has been playing their brand of traditional Scottish and Irish music for events all over Oregon. A SCOTTISH HEART has performed at intimate venues as well as large gatherings and dances, including stints at the Tower Theater.
A SCOTTISH HEART was born out of Irene Goodnight's attendance at the 10th year summer camp session of Valley of the Moon Scottish Fiddling School in 1993. The captivating music and culture, as presented by Scotland's premier fiddler Alasdair Fraser and his seasoned campers and faculty, compelled her to "make something of it".
At first, Irene and her good friend, Becky Duncan, began learning the music together, and by 1995, the band had grown to five members, including piper Steve Allely, and was gaining experience playing for the local Scottish Country Dance group.
The dancers, headed by Steve's wife Susie, and the new band met weekly, and they honed their talents by playing for authentic dances from the same era as their old musical accompaniment.
Further attendances at the camp and other workshops offered by Scottish and Irish musicians over the years kept things moving along. In 2002, the band, now a trio, took their group to the next level by making several trips to Scotland to continue to absorb the culture first hand
The band attends Valley of the Moon Scottish music school, workshops in Oregon, California and Washington, and study many sources to develop their traditional sound. Weekly practices keep the band performance-ready, while their trips to Scotland and New York have seasoned their authentic sound.
Thanks to their showmanship and musical talent, they have earned a following of true fans throughout Central Oregon.
.
Personal Bios
Becky Duncan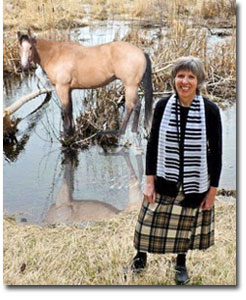 Becky Duncan, pianist, aspiring cellist, and recently-retired long-time elementary school teacher, has been playing the piano since age six. She has studied with pre-eminent Scottish dance musician Muriel Johnstone and with the great Cape Breton pianist Barbara MacDonald Magone. How much does Becky love Scottish music? Well, she named her horse "Hannah" after the subject of the beautiful William Marshall jig "Miss Hannah of Elgin"!


Steve Allely
Steve Allely, a professional artist, had his Celtic musical leanings awaken when he began playing the Irish bodhran frame drum, with A Scottish Heart in their formative years. Since then he has added penny whistles, low whistles, the Irish uilleann pipes, and the Scottish Highland pipes to his musical instrument repertoire. As if that wasn't enough he also plays the bones and other miscellaneous percussion when the tune calls for it.
Irene Goodnight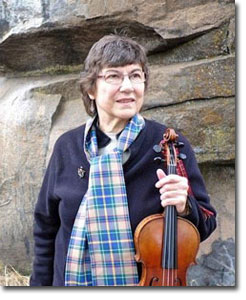 Irene Goodnight began studying violin at age nine, continuing through college, earning degrees in music and education. Years of orchestral experience were followed by more years of fiddling and band experience, (many bands) with on-the-road music jobs, off-beat performances with acting troupes, (such as Sam Shepard's "The Sad Lament Of Pecos Bill On the Eve Of Killing His Wife") and one Hollywood movie project ("Desert Bloom", 1985, starring Jon Voight.) This led finally to the founding of A Scottish Heart in 1994. She is the mother of two grown daughters and teaches violin and fiddling styles in Bend.
Engagement Schedule
Coming Soon!
ANNUAL BALL!
October 5, 2015
19th Annual High Desert Scottish Country Dance Ball
Deep in the highlands of Oregon, at the Redmond Grange Hall
Music by A Scottish Heart
DANCE PARTY!
Hear A Scottish Heart every month in Bend as they play for the High Desert Celtic Dancers regular Dance Party. Spectators are always welcome, and it's free! Or, come and learn to dance! No need to bring a partner.
Every Month - Last Monday of the Month
Scottish Country Dance Party
Sons of Norway Hall in Bend
On Harmon and Columbia, off of Galveston (West Side Area)
7:00 - 9:00 p.m.
Current Private Weddings Scheduled:
August 8, 2015
July 6, 2016
Scottish & Irish Fiddling Sessions
Monthly at Dudley's Books and Cafe in Bend
3rd Friday of each month
6:00 p.m.
Open to all.
Please check back for other upcoming events and shows.
Band Contact: Irene Goodnight
541 388-8872
dafidlr@iglide.net
Contact Us
BOOKINGS: Irene Goodnight, 541 388-8872 or dafidlr@iglide.net
The 2013 High Desert Celtic Festival Photo Page!
Song Clips
My Love is Like a Red Red Rose
Compliments to Irene Goodnight
Diversity of Venues
Scottish Country Dancers Ball,
Redmond Grange - October
High Desert Celtic Festival - August
Burns Nights Celebrations - January Monthly Dance Parties for the Scottish Country Dancers
Sons of Norway Hall, Bend Contra dances in Bend
Regular Celtic Fiddle Sessions in Bend